MATTOON – For the upcoming annual Bagel Festival, the Lender's Mattoon facility is once again gearing up to provide nearly 20,000 bagels each for the July 20th event's free breakfast and parade.
The bagels given away during the breakfast, parade and other Bagel Fest activities are a fraction of the approximately 2 million bagels per day that the 200,000 square foot facility at 3801 DeWitt Ave. produced at full production.
Plant Manager Patrick Shaughnessy said the Mattoon facility is the only source for the refrigerated bagels and frozen bagels that Conagra-owned Lender's Bagels sells in the United States, including to schools and other large workplaces.
"Catering is 25 percent of our business, so it's not insignificant," Shaughnessy said.
Nancy Bruner, quality manager at the Mattoon facility, said this facility makes 35 different Lender's products, with sizes ranging from minis to full-size. Flavors consist of Natural, Blueberry, Cinnamon Raisins, Cinnamon Strudel, Egg, French Toast, Onion, White Wheat and Whole Wheat.
Shaughnessy said the facility operates 24 hours a day, seven days a week, producing bagels 24 hours a day for four consecutive days and then switching to sanitation procedures before resuming production. He said they have two production lines, but each of those lines is designed to make two different types of bagels at the same time, depending on needs.
"That is manufacturing flexibility. That's a core concept that we have," Shaughnessy said. "We're just trying to be flexible in our operations to serve our customers."
The Mattoon plant's workforce of about 250 employees is the plant's greatest asset, Shaughnessy said. This skilled workforce adapts well to changing products and production lines, he said.
Conagra bought Lender's previous owner Pinnacle Foods last fall. Bruner said the ownership change will be reflected later this month by the placement of permanent Conagra signs outside of the Mattoon facility.
The Conagra company also owns Aunt Jemima, Duncan Hines, Log Cabin, Mrs. Butterworth's and more than 70 other brands ranging from microwave popcorn and snack foods to salad dressings and health foods.
Shaughnessy said the Conagra acquisition has not changed the operation of the Mattoon plant but offers the potential for future production growth within the Lender brand or potentially other brands. He said this will help cater to a customer base that always wants to be more informed about the groceries they buy.
"Innovation is the future of our company," said Shaughnessy. "Our customers are at the center of every decision we make."
Regarding Conagra, Shaughnessy said the company recently recognized the Mattoon facility for facility efficiencies that have reduced water use by 976,000 gallons per year and for a recycling program that reduces the amount of waste materials it sends to landfill reduced by 40 percent.
Lender's Mattoon facility opened in 1986. Community leaders organized the first Bagelfest and free bagel breakfast in 1986 to introduce this company to the community. Since then, the festival has been an annual tradition.
Bruner said that in addition to providing free bagels for breakfast and the parade, Lender's also donates bagels to the Run for the Bagel race and other celebrations. She said Lender employees would also volunteer to help with breakfast and organize the Lender and Relay for Life floats for the parade. She said many employees ride in the parade with their children.
Shaughnessy, a Chicago native who has worked in manufacturing for 20 years, said he attended his first Bagel Fest in 2018 after moving to the community earlier in the year to become a plant manager.
"There was a lot of fun. We had a great time," Shaughnessy said, adding that the festival is a great way for Lender's and its employees to get involved in the community. "We know how important it is to play that role at Bagelfest."
A Bagel Is Born: Follow the path of a bagel through the Lender's Bagels factory in Mattoon
A bagel is born: In the beginning there is the dough
A bagel is born: made into rings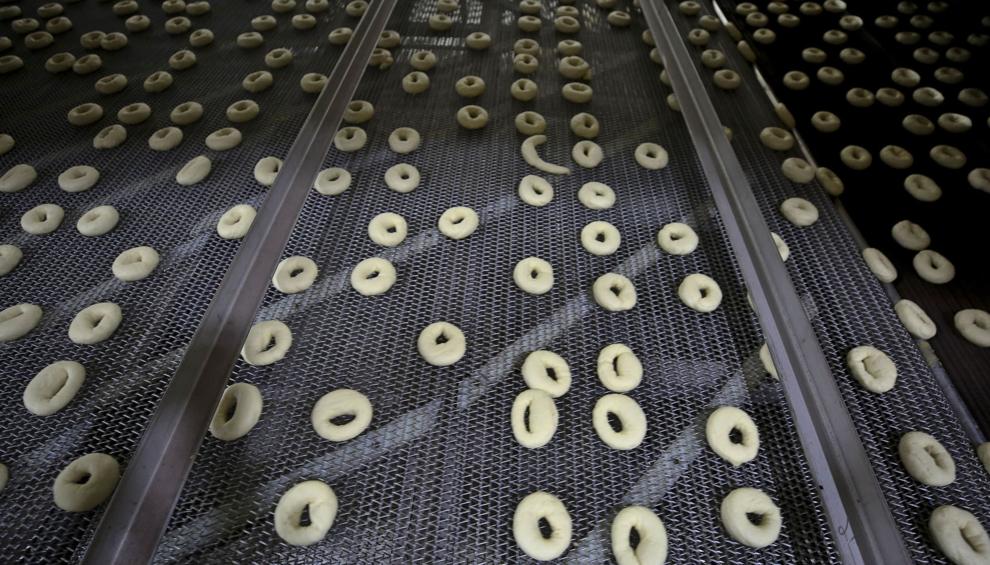 A bagel is born: rings are cooked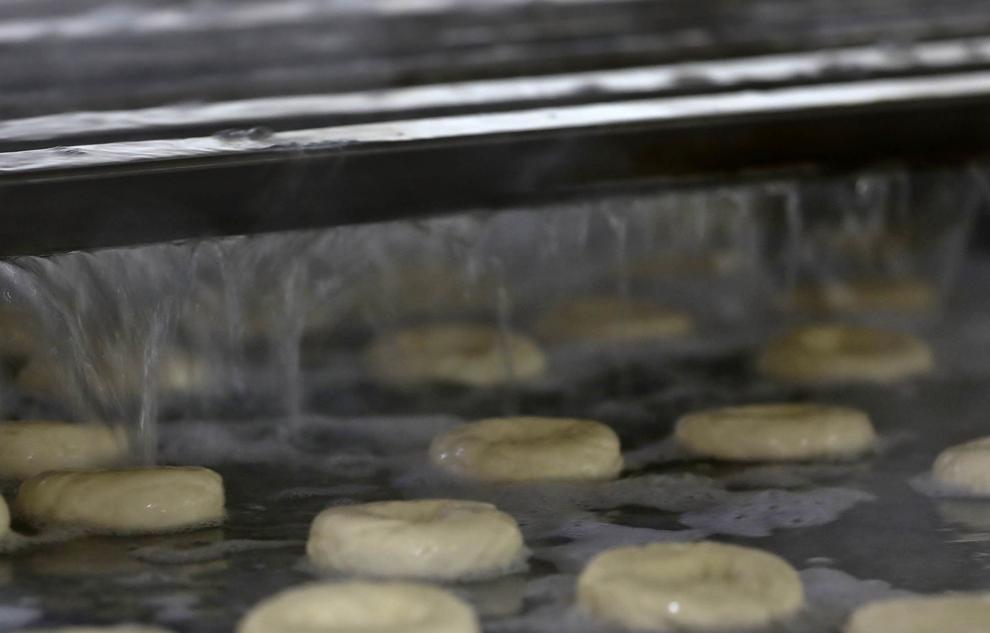 A bagel is born: rings are baked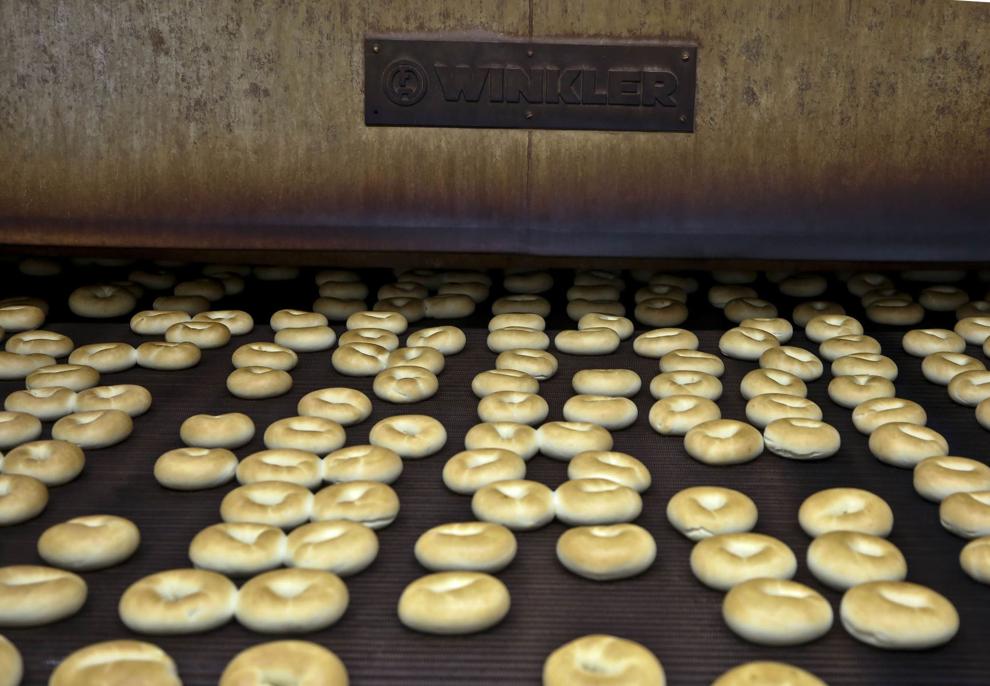 A bagel is born: on to the next station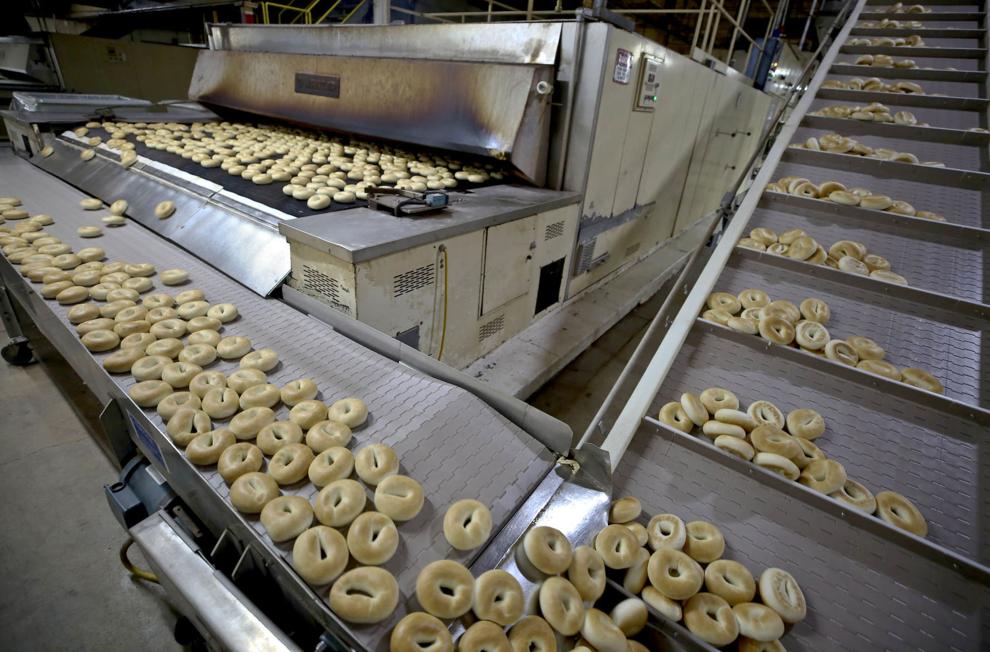 A bagel is born: next stop, slicer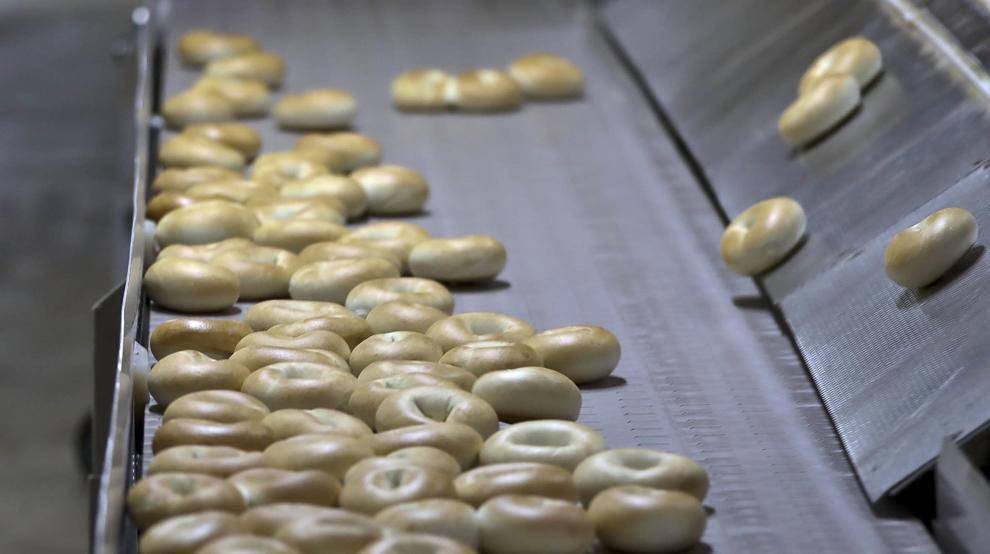 A bagel is born: make cuts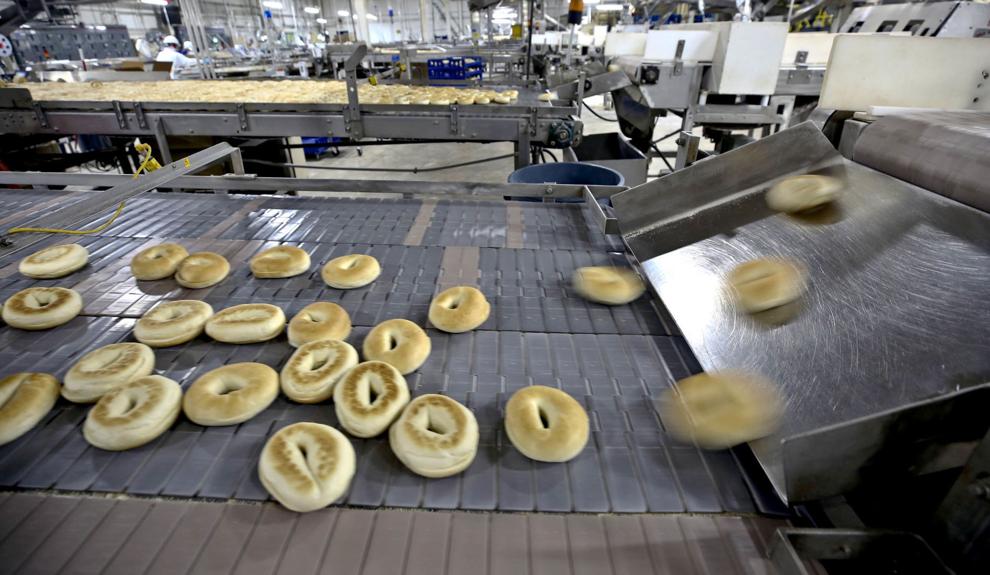 A bagel is born: ready to be wrapped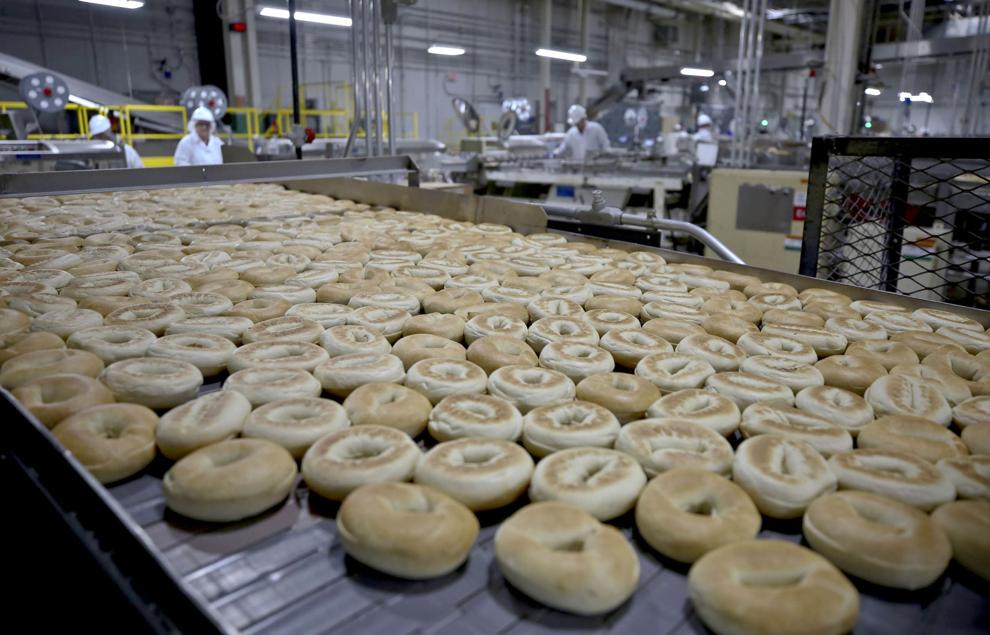 A bagel is born: packed and ready to ship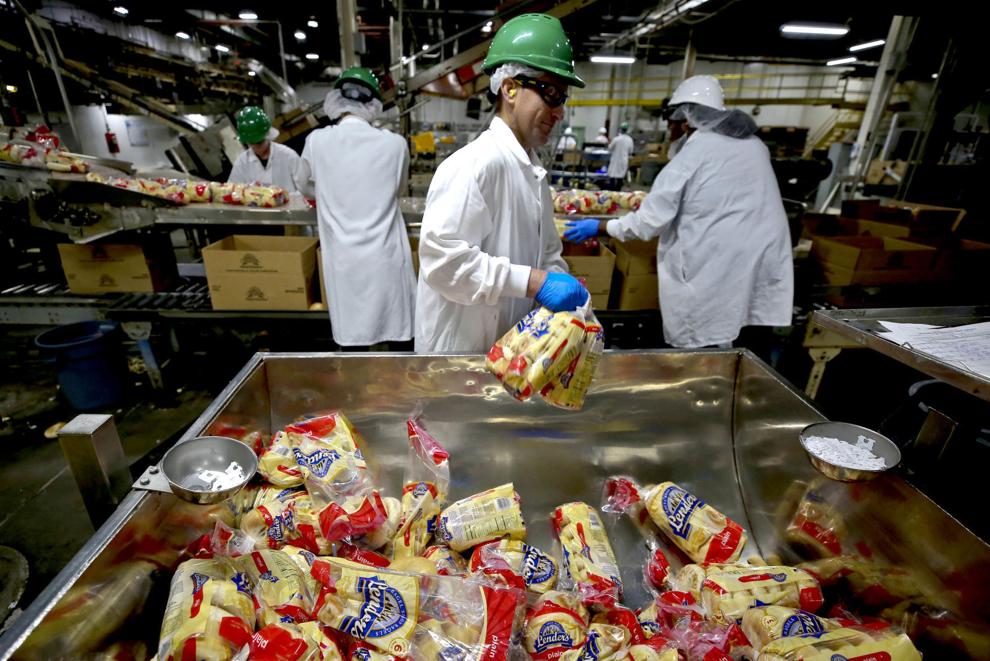 A bagel is born: packed and ready to ship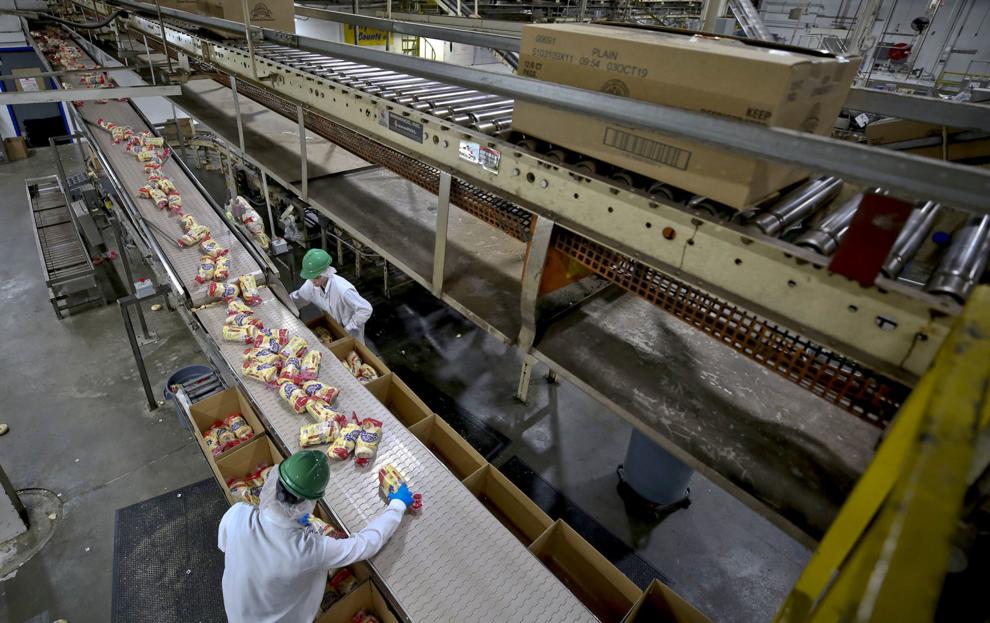 Contact Rob Stroud at (217) 238-6861. Follow him on Twitter: @TheRobStroud