As farmers digest reports they may have to plant crops this year – regardless of the agricultural sector they are in, or where they are located – Agriculture and Consumer Affairs Correspondent Joe Mag Raollaigh examines the last time compulsory tillage was used in Ireland.
---
The suffering and bloodshed in Ukraine playing out on our screens is heart rending and shocking in equal measure.
As refugees from the Russian bombardment flow out of the country to uncertain futures, the destruction of Ukraine and the consequent sanctions on Russia are also reverberating around the world.
Rising prices in countries like Ireland cannot compare with the suffering of Ukrainians, but they are fast becoming facts of daily life.
The confirmation from Minister Charlie McConalogue today that all farmers here may be asked to plant crops to address looming shortfalls in grain for food and animal feeds has taken farmers and farming bodies by surprise.
But it would not be a first for Ireland. The last time such measures were required was during and after "the Emergency" or World War II.
UCD History Professor Paul Rouse has written a book on the period after the Emergency and the use of Compulsory Tillage Orders.
"The first Compulsory Tillage Orders were used in Ireland in 1917 after the Great War but the time it was seriously implemented was an order from 1939, implemented from 1940 until 1948," he told RTÉ News.
"In the first instance, farmers with more than 10 acres had to put 12.5% of their land into tillage. Within a year, it had gone to 25% of land and included farms greater than five acres in size".
The facts show that the measure worked. A decline in grain output in Ireland in the late 1930s was reversed and output increased substantially – even if not all farmers complied. The penalties were severe.
"First of all, there was an inspectorate sent to every farm in the country repeatedly to assess the land that was suitable. Some land was not capable of being tilled – like boggy terrain and so on – but there were about 300,000 farms that were set out as being capable for supporting tillage," said Prof Rouse.
If there was no grain to be milled there could be no flour to bake bread
"The first fine was 100 pounds but that was increased to 500 pounds which was a significant amount of money in the 1940s. There was also the possibility of six months' imprisonment, and the repossession of land."
He added: "There were farms repossessed as early as 1940 and '41… more than 50 were repossessed during those years.
"There were farmers who simply refused to comply and there are quite extraordinary stories where inspectors would arrive at the land and the farmer would pretend to be out of his head….to confirm to inspectors they were not capable."
Ireland, at this time, was walking the tightrope of military neutrality as Nazi Germany attacked and laid waste to European nations, and the disruption to food supplies was immense and continent wide.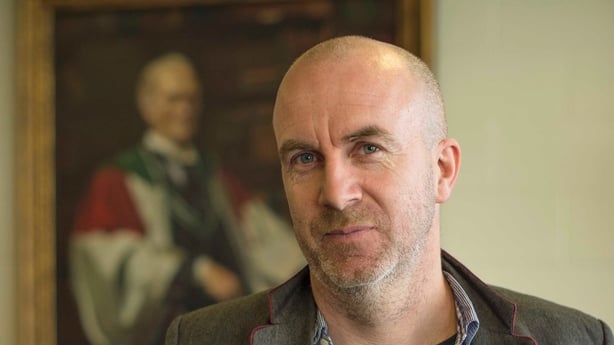 "It was the greatest conflagration the world had ever known. Supply lines simply ended across the Western world," said Prof Rouse.
"Ireland was not a priority, it was not a combatant, it was neutral and because of that, the capacity of the Irish state to source basic raw materials for people was exceptionally difficult.
"Every sector of society was affected by scarcity of supply but the greatest scarcity that worried the state was to do with basic foodstuffs, and the most basic food was bread.
"If there was no grain to be milled there could be no flour to bake bread, and this was in the centenary decade of the Great Famine which had evocative memories for people living across Ireland."
Professor Paul Rouse is author of Ireland's Own Soil: Government And Agriculture In Ireland, 1945-65.